Partial Woodruff County Map
The map below is part of a 1915 map of Woodruff County that was in the courthouse in Augusta, Arkansas. It shows some of the land locations for the Stephenson family and also for the Yarbarough family. Section 26 in the botton right hand corner is the land where the Stephenson Cemetery is located. By 1915 the land belonged to V. W. Stephenson, my grandfather's brother. My grandfather, Samuel Walter Stephenson owned some land in Section 22, located near the bottom of the Section.
Click on the map for a larger image.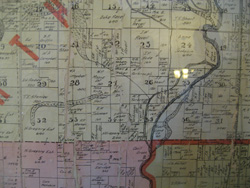 1915 Woodruff County, Arkansas map