Larry Don Tull, Sr.
Sunset Memorial Gardens
6801 E. Business 20
Odessa, TX 79762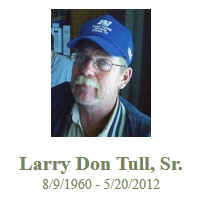 Larry Don Tull, Sr.
August 9, 1960 - May 20, 2012
"Heroes get remembered, but legends never die." With the passing of Larry Don Tull, Sr., age 51 of Odessa, Texas on May 20, 2012, this quote rings true because he will live on in the hearts of those who were near and dear to him.

Larry's journey began on August 9, 1960, when he was born in Spur, Texas to Charles and Bernie Tull. Larry was an Odessa High School graduate from the class of 1978. He married his soul mate, Jeannette "Jo" DeGraffenreid, on May 3, 1979, in Odessa. Larry and Jo lived in Odessa where they raised their two sons. Larry worked in the oilfield for 35 years, most recently as an oilfield Service Supervisor for BJ Hughes until his journey came to an end when he lost his battle with cancer.

Larry was preceded in death by his father, Charles Tull, and brother, Wayne Tull.

Larry was considered a great man because he was a faithful companion, loving parent, cherished grand-parent, true friend, and dedicated family man. He will be dearly missed by those that he is survived by: his wife, Jeannette "Jo" Tull; sons, Larry Don Tull, Jr. and wife September and James Wesley Tull; brother, Eddie Tull and Carla; sister, Janice Tull; grandsons, John Charles Tull, Robert Hickman, and Alexander Donovan Tull; mother, Bernie Tull and numerous nieces, nephews, family and friends.

Visitation with the family will be 6-8 PM Wednesday, May 23, 2012 at Sunset Funeral Home. Services are scheduled for 10:00 AM Thursday, May 24, 2012 at Sunset Funeral Home Chapel with Robert Lamb officiating. Burial will follow at Sunset Memorial Gardens.