Henrietta (Nettie) Lee Watson Cariker Stephenson
18 March 1877 - About 1903
First wife of Samuel Walter Stephenson (my grandfather)
The picture below of Henrietta (Nettie) Lee Watson Cariker Stephenson was the first wife of my grandfather, Samuel Walter Stephenson (PA). Pa and Nettie were married on 16 or 18 April 1902 and they had one child, Maggie Lou Stephenson. Nettie Lee was the 2 nd wife of William Walter Cariker, Pa's first cousin. William Walter's first wife was Nettie's older sister, Fannie Jane Watson. Fannie (7 Feb 1872 – 22 Feb 1894) died of malaria leaving behind two children—Henrietta Cariker and Freda Gertrude Cariker. William Walter Cariker and Fannie Jane Watson were married on 23 Aug 1890. Nettie Lee Watson and William Walter Cariker were married on 29 Sep 1894 and they had three children—W. Maynard Cariker, Walter Ray Cariker, and Minnie Delcemia Cariker. William Walter Cariker died (17 Mar 1869 – 29 Jan 1901) probably of malaria also. Malaria, or swamp fever as it was often referred to, took many lives during the turn of the century in that area ( McCrory, AR).
In 1903 Nettie died and a few months later her daughter, Maggie Lou Stephenson also died, both probably of malaria. It is my opinion that Maggie Lou Stephenson is buried in the Stephenson Cemetery on the family farm. After Nettie died her children went to live with her side of the Watson family. They also wanted to take Maggie Lou but Pa refused, letting his sister, Edna Stephenson Hargis keep her. As noted earlier Maggie died within a few months and also two Hargis children died, one 1899 and the other 1906. Both of the Hargis children are buried in the Stephenson Cemetery and this gives me additional reason to believe that Maggie is buried there, too.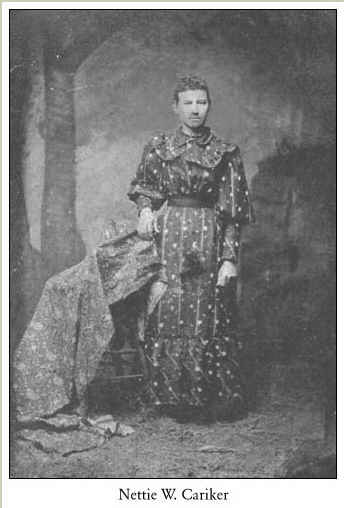 Nettie Lee was the 2nd wife of Walter Cariker. Her older sister Fannie Lee was his first wife. My grandmother (Minnie) said the Fannie had died of swamp fever (malaria).
Her father (Walter Cariker) also died of Malaria. Nettie Lee married a Walter Stevenson. She and their daughter Maggie died by the time my grandmother was three (ca 1903).
Henrietta Reid Adams took in the children of Walter Cariker and her two daughters to raise. Ettie Cariker married a Wright and died in childbirth. Freda Gertrude died at 6-8 months old. Maynard, Walter Ray, and Minnie went to live with Henrietta and her youngest living daughter Ora Huff in McCrory, Woodruff Co., AR.
...Marriage reported in Woodruff Co. Free Press, Friday April 8 1902, vol 9, no 49:
Walter Stephenson to Nettie Cariker both of Augusta, age 25
(May or may not be same) S. W. Stephenson reported on Woodruff Co delinquent tax records in1902. Recorded May 23, 1902. W-1-2 NE -4 sect 27.
Source: http://cotati.sjsu.edu/wright/d0000/db25