Pioneer Families of Revel Arkansas
By Milton Yarbrough
As told by Maude Yarbrough Schwer
My great-grandfathers were some of the earliest settlers of what is now the Revel community. My great-grandfather, Thomas Jefferson Yarbrough, a captain in the Confederate Service, came from Tennessee to Woodruff County, Arkansas, before or during the Civil War. My other great-grandfather, Samuel Charles Stephenson, was born in North Hampton County, North Carolina, and later moved to Woodruff County at the end of the Civil War.
On February 14, 1866, Thomas Jefferson Yarbrough age thirty-three married Virginia Ann Penn age nineteen. Virginia Ann Penn was the daughter of the Penn's of Maury County, Tennessee, who settled in Augusta in 1849 and established one of the first merchantile businesses there. The couple, known as Jeff and Annie, gave birth to their only child, William Penn Yarbrough, on the Yarbrough farm on February 14, 1870. When William was a year old, Virginia Ann became very ill with pneumonia. A good friend and neighbor of the family, Margaret Stephenson and her baby daughter, Annie Tabitha, came to visit Annie and found a hungry and crying baby William. Since Virginia Ann was too ill to feed the child, Margaret nursed him at her breast. So, my grandfather and grandmother nursed the same breast at one time. Unfortunately, Virginia Ann never recovered from the illness.
When William Penn was two years old his father, Jeff, was killed by a horse. Jeff's brother Frank, a bachelor, took William Penn to raise along with five other orphaned relative children. The only names of the other orphaned children remembered are Ida and Ella Duke and Tom Layn.
When William Penn was fourteen years, old, his uncle Frank was killed over a disagreement concerning a small debt. Following Frank's death, William Penn moved into Augusta and boarded with various people and later attended the University of Arkansas.
At age 21, William Penn took over the mortgaged Yarbrough farm and soon began courting Annie Tabitha Stephenson. Annie was the daughter of Samuel Charles Stephenson and Margaret Theresa Cariker Garrett Stephenson. Her father (Samuel), a farmer, preferred to live near a river so that he could hunt and fish. When Samuel was a young man, during the Reconstruction period which followed the Civil War, he left North Carolina with eleven other young men including two brothers, Ben and Nathan. The young men left their homes and moved West in search of opportunities. Ben, a Civil War veteran and a prisoner of war at Elmira, New York, never had a family; nor did his brother Nathan who died at a young age.
Annie Tabitha's mother Margaret, was the daughter of George Cariker of South Carolina, who came to Woodruff County and settled near what is now Fakes, Arkansas. Margaret's first marriage was to Louis Garrett who was killed in Augusta, leaving her with two children named Margaret (Maggie, who later married James Short) and James (Jim, a sheriff of Woodruff County 1910-1914). [Not part of the original document—there were three children. Charles A. Garrett, son of Margaret died in 1883] Margaret later married Samuel Stephenson and had four children, Annie Tabitha, Edna (who married Dr. Hargis), Walter, and Victor.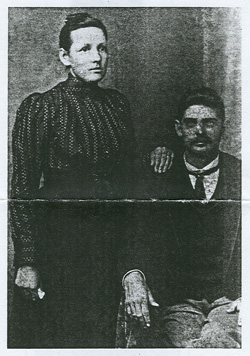 William Penn & Annie Stephenson Yarbrough, sometime during the 1890s.
Click on the picture to make it larger.
On October 18, 1893, William Penn and Annie were married in the Stephenson home. William Penn and Annie prospered and added more land and property in Augusta. They also owned shares of the Old Revel cotton gin and the Conner Mercantile at Revel. They had fifteen children, two of whom died at birth. They were:
William Jenkins (October 18, 1894 – December 24, 1960). He married Lottie Angelo of Woodruff County, and had three children, Annie Lorene (deceased), William Jerome, and William Penn.
Maggie Annie (November 25, 1895 – September 24, 1916). She married Roland Murphy of Arkansas.
Jefferson Penn (November 25, 1896 – July 10, 1897).
Maude LaVergne was born October 13, 1897. She Married Charles Schwer of New York, and is now a widow living in Orlando, Florida. She taught at some of the one-room schools in Woodruff County when she was young.
Samuel Charles (February 19, 1899 – August 18, 1899).
Mabel Edna was born August 1, 1901. She married Robert P. Smith of Shreveport, Louisiana, and is now a widow living in Shreveport. She and Maude are the only ones of their generation still living.
Minor Gregory (December 25, 1902 – October, 1947). He married Beatrice Barton of McAdoo, Texas, and had two children, Wanda Lou and Melvin.
My father, Marvin Thomas (December 17, 1903 – November 4, 1980). He first married Martha Maureen Long of Advance, Missouri, whom he met in Little rock. They had three children, Milton Thomas, Merridy Rae, and Royce Wayne. Maureen died March 2, 1934, and is buried in the Memorial Cemetery of Augusta. Marvin later married Mona Adams of Dickens, Texas, who gave birth to six children, Stanley Norvel, Mona Carolyne, twins Marilyn Edwina and Marvin Edward, Steven Penn (deceased), and Sammie Durrel.
Other children of William Penn and Annie are:
Milton Burpee, (February 1, 1905 – April 11, 1914)
Russell Allen, (February 23, 1906 – August 23, 1906)
Darius Pendell, (May 30, 1907 – April 20, 1929)

Lucy Dean, (August 19, 1908 – March 15, 1984). She married Herman R. Montgomery of Little Rock and had one son, Darius Pendell, who is deceased.
Libbye Victor, (February 1, 1910 – December 28, 1988). She married Carl J. Huckabee of Shreveport, Louisiana, and gave birth to two children, Carl Jack (deceased), and Beverly Jean.
Annie Tabitha died February 3, 1911, age forty. William Penn, died February 27, 1915, age forty-five. It is said that William Penn was the first Yarbrough man to die of natural causes in the family for over 200 years. Both are buried in the Memorial Cemetery in Augusta.
William Penn has been described by his children as being charming and fun-loving. He enjoyed playing the guitar to entertain his large family, and breeding fine show horses. He won first-place awards in horse show competitions. Annie, on the other hand, was the more serious one. Aunt Maude Yarbrough Schwer remembers her mother as being "The navigator of the ship."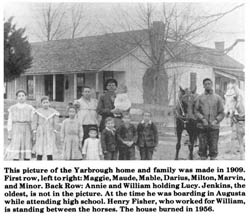 Click on the picture to make it larger.
My memories of Woodruff County are filled with fishing at Penn's Bay and along the Cache River and hunting in the woods with my father. My parents were Marvin Thomas Yarbrough and Maureen Long Yarbrough. They were married September 11, 1924, in Little Rock, Arkansas, and moved to Texas, where three children were born, Milton, Merridy Rae, and Royce. In 1933, my mother and father moved to the farm near the Revel community. In 1934, our mother died. Our father raised us with the help of a black man named Jim Reeves. We were very close to Jim. In 1940, the farm was sold. We moved to Texas where my father married Mona Adams and moved to California. They had six children. All of Marvin Yarbrough's descendants have lived in California since 1943.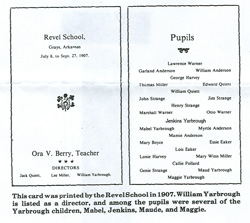 Click on the image for a large picture.