Summary
As one of Extraordinary Events newest employees, Beth brings fresh energy, enthusiasm and professionalism to the team. With production experience covering a broad range of events from the Governors Ball for the Emmys and Academy Awards, to the grand re-opening of the Griffith Observatory, her interest in continuing her career in corporate event planning has taken off. During her time with EE, Beth has led and produced a handful of events for several clients including Blue Cross, Kaiser Permanente, Rain Bird, Turnberry Associates and Bon Appétit. For Turnberry Associates, she oversaw and produced the grand opening of Town Square in Las Vegas; which consisted of several elements including a ribbon cutting ceremony, VIP Reception, a five day schedule of mixed entertainment and Santa's Parade. Despite her boundless enthusiasm, it is Beth's continuous work ethic and dedication to every project that has enabled her to build a very respectable track record in a short period of time. Most recently Beth has involved herself in industry organizations, such SITE and is constantly researching new trends and what can creatively be applied to her work. "Greening" events and educating herself and others on more resourceful tactics has caught her attention in a big way, as global efforts certainly have a hand in this fast-pace industry. Beth has also applied "greening" tactics at home in the EE office. She is looking forward to building a future in the events industry, not only in production, but expanding into marketing, sales and PR efforts as well.
Event Showcase 1
Bon Appétit's Grand Tasting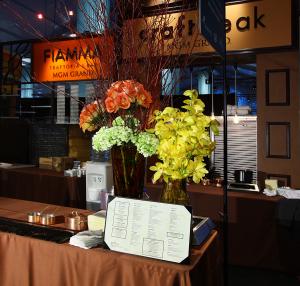 Uncork'd … the theme of Bon Appétit's Grand Tasting held in the Roman tent at Caesar's Palace, featuring not only 50 legendary chefs but an assortment of wineries, brewers and world class spirits. Certainly an event with 'good taste', both guests and chefs were murmuring to each other about returning the following year by the end of the evening. Overseeing logistical management of various culinary requirements, a short load-in time, challenging street activity (imagine trying to close down Las Vegas Blvd. for hundreds of deliveries), rentals, audio visual, entertainment, silent auction and as well as fifty chefs with very specific requirements, Beth led the production team through assorted challenges with a calm head on her shoulders. All of this was accomplished in addition to an overall custom event style. With a color palette consisting of sky blue and chocolate brown, tying in nicely with the Uncork'd logo, custom chandeliers complemented custom linen and lovely floral to achieve a true sensory experience for the over 1,200 guests in attendance. Additionally, Beth coordinated with the client to ensure a celebrity poker night and black jack night happened simultaneously and flawlessly at other venues across the Vegas strip.
Event Showcase 2
Nonprofit Fundraising Gala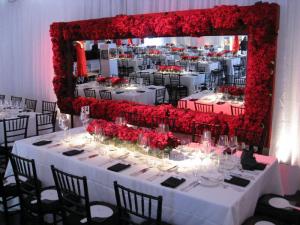 This lavish yet classy gala dinner held a more meaningful purpose then bringing guests together for a memorable evening, as guests walked away with much more- the heartfelt feeling of giving back to those in need. Father Joe's Village, a nonprofit organization proposed to build a community for underprivileged families with children and this particular fundraiser would support just that. Held in an 8,000 square ft. tent, the evening felt nothing less than a well disguised venue. With white sheath fabric draping the walls and black high-shine appliqué flooring, the space was filled with rectangle king tables in white suede linens. Twenty-one black, crystal chandeliers suspended over a white dance floor. The stage was flanked with video screens, allowing great sight lines for all guests through the use of IMAG. A dramatic touch of Valentino red was found not only on the twelve crystal mannequins modeling Valentino fashion gowns throughout the tent, but also in the red roses that filled black-mirrored troughs as centerpieces on the tables. Four 15' long mirrors framed with a thick band of red roses rested on each side of the tent, reflecting the table settings and Valentino gowns throughout the space. With a lovely three-course meal by Waters Catering Company and Chubby Checker leading the crowd in doing the twist, the event simply offered more than an opportunity to participate in the auction. Raising thousands of dollars for Father Joe's Village, guests happily went home knowing they too could make a difference.
Event Showcase 3
Grand Opening of Town Square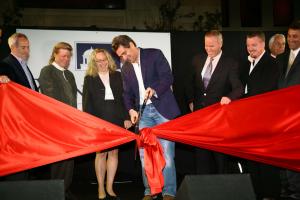 REAL…LIFE…EXPERIENCE… Las Vegas proudly welcomed a one-of-a-kind lifestyle, entertainment, dining and shopping center… Town Square. Leading the production team, Beth ensured the series of events culminating in an elaborate holiday celebration would flow flawlessly. Shiny red satin dressed the stage as owners and executives of Town Square exchanged words of acknowledgement and appreciation to donors and the public. The ribbon cutting ceremony ended with a musical performance by a stunning triplet string ensemble. An empty retail space was a perfect location for a trendy, yet classy VIP Reception. Furnished in luscious chocolate brown suede, lounge groupings were accented with gorgeous florals. Sounds of a Spanish guitarist could be heard while guests were enjoying tray passed hors d'oeuvres provided by The Charlie Palmer Group. The VIP Reception was nothing less than elegant. Throughout the five day celebration, parents and children would find balloon artists, mimes, magicians, jugglers, face painters and even a story teller around Town Square. Country, rock, jazz and beach band music could be heard from a pavilion stage, and a Street Team crew wearing "Real. Life. Experience." t-shirts happily distributed maps and information. The weekend ended with an exciting parade featuring Santa and two reindeer. Thousands of children lined the streets with bells in hand, ringing them to bring Santa into sight. In front of a Norman Rockwell style Santa house, parade characters were found taking photos and playing with children. A massive tree was lit to kick off the holiday spirit and close the festivities.
Challenge!
Town Square Shopping Center is first of its kind for the locals of Las Vegas and certainly created physical challenges to produce the grand opening events with construction that took place right up to the event date. The challenges that presented themselves throughout pre-production affected much of the decision making process, from basic logistical needs such as power sources to reliable completion of infrastructure, as well as functioning restrooms and office space. The ribbon cutting ceremony, VIP reception, musical stages and Santa's parade all faced pending final decisions on where they would take place due to the unreliable levels of property completion. The team was in constant flex mode. Beth found that working with the property's construction, engineering and security team was the best way to stay updated and in tune with the progress. Even though locations changed invariably, she stayed on top of potential spaces that turned up each week. Finalizing decisions to get fire marshal approval were closing in as the event was fast approaching, and in one instance the fire marshal refused to approve the main ceremony stage location. The general manager, head of construction and security were all dumbfounded and speechless, however Beth found the courage to speak on behalf of the team, explaining the value of having an opening ceremony outside and accessible to the general public, striking a deal to leave room for a fire lane behind it. It was her flexibility to change, working and adapting to the venue resources available to her that made the event a success. Beth found that proactive involvement not only resulted in success no different from any other event, but also success in leading a team to adapt well.
Letters of Recommendation